Difference between revisions of "LudumDare201204"
From Ghoulwiki
Line 75:
Line 75:
 
 
 

original map 1:1 in tiled:<br>

 

original map 1:1 in tiled:<br>

−

[[Image:Ameise.png]]

+

[[Image:Ameise.png]]

 
 
 

diese palette benutze ich:<br>

 

diese palette benutze ich:<br>
---
Revision as of 13:37, 21 April 2012
TINY WORLD
Final theme is "Tiny World".
GAMEPLAY IDEE

formwandler
alles was man trifft kann man klonen
jedes lebewesen hat genau 1 faehigkeit
man kann immer wechseln
jede form hat eine stufe und kann gelevelt werden
der spieler hat 1 gemeinsamen hp balken

formen:
klonschleim - form lernen
spinne - klebefaeden
wasserlaufer - auf wasser laufen
ameise - nahkampf
kellerassel - panzer/unverwundbar
made - 
fliege - fliegen
biene - 
mistkaefer - schieben
schnecke - kleben/wallwalk
regenwurm - lang
zecke - blutsaugen und platzen
tausendfuessler - 
minifrosch - springen

so ne art vision
ein insekt in echtzeit steuerbar auf einer mit tiled gebauten karte eines gartens/kellers/... in topdown ansicht?
setting
post apocalyptic (fallout, madmax, the road)
samples:
GIT
gitosis@zwischenwelt.org:ludumdare201204.git
tilesystem
tilesystem sample
beispiel tiles
graphicstyle
SiENcE: Wir sollten uns auf eine reduzierte Palette einigen. Am besten 16 oder 32 Farben.
ich fang schon mal an mit einem 32x32pixel tileset
die ersten tiles :)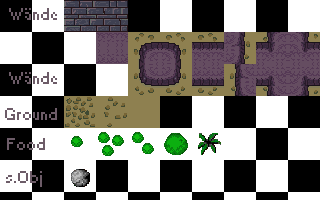 640x400 Ausschnitt aus der unteren map scaling *2: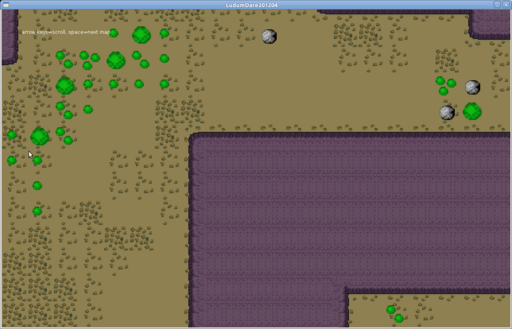 original map 1:1 in tiled: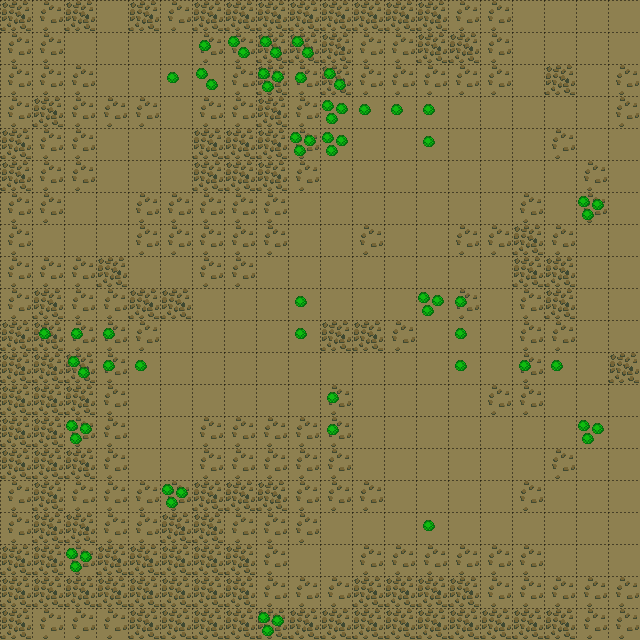 diese palette benutze ich: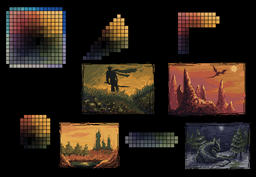 zum Beispiel so eine Palette

resolution
wir nehmen DOS VGA (320x200)
game modules/parts
overland map
human settlements
npc-system
item-system
character stats-system
combat-system
day/night-system!?
links