Difference between revisions of "LudumDare201204"
From Ghoulwiki
Line 42:
Line 42:
 
 
 

== setting ==

 

== setting ==

−

* post apocalyptic (fallout, madmax, the road)

 
−

* samples:

 
−

:* http://www.mobygames.com/game/burntime

 
−

:* http://www.mobygames.com/game/wasteland

 
−

:* http://www.mobygames.com/genre/sheet/post-apocalyptic/

 
−

* the road: [https://www.google.de/search?q=the+road&um=1&ie=UTF-8&hl=de&tbm=isch&source=og&sa=N&tab=wi&ei=5BqQT4aBFobdsgaK4_mVBA&biw=1280&bih=642&sei=5xqQT72hJ8eRswbg6o2aBA#um=1&hl=de&tbm=isch&q=the+road+movie&revid=1777813267&sa=X&ei=5xqQT_7hMM30sgaWrN2vBA&ved=0CDwQgxY&bav=on.2,or.r_gc.r_pw.,cf.osb&fp=18ea3d4db1013e03&biw=1280&bih=642|google]

 
 
 
−

* LD22 game http://www.ludumdare.com/compo/category/ld-22/?author_name=frankiesmileshow

+

:.

 
+

 

 
+

.

 
 
 

== GIT ==

 

== GIT ==
---
Revision as of 10:20, 23 April 2012
TINY WORLD
Final theme is "Tiny World".
LudumDare postings: http://www.ludumdare.com/compo/author/SiENcE/
GAMEPLAY
The gameplay in a short terms:
you are a alien blob from a distant planet
your spaceship crashed on the earth
find your ship to get home
you are a shapeshifter and you can change your shape
change your shape to solve tricky situations and get to your ship
consume corpses to learn new shape-shifting forms
different forms grant different abilities that will help you on your way
you are a [tiny] alien blob from a distant planet
Formwandler
der schleim kann leichen absorbieren und kann ab dann die form immer annehmen
jedes lebewesen hat genau 1 faehigkeit
man kann immer wechseln
jede form hat eine stufe und kann gelevelt werden
der spieler hat 1 gemeinsamen hp balken
Formen
klonschleim - form lernen
spinne - klebefaeden
wasserlaufer - auf wasser laufen
ameise - nahkampf
kellerassel - panzer/unverwundbar
made -
fliege - fliegen
biene -
mistkaefer - schieben
schnecke - kleben/wallwalk
regenwurm - lang
zecke - blutsaugen und platzen
tausendfuessler -
minifrosch - springen
setting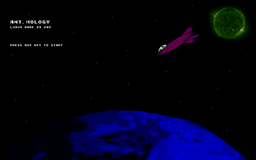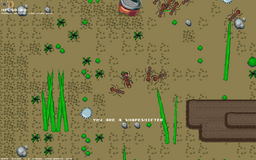 GIT
gitosis@zwischenwelt.org:ludumdare201204.git
tilesystem
tilesystem sample
beispiel tiles
graphicstyle
SiENcE: Wir sollten uns auf eine reduzierte Palette einigen. Am besten 16 oder 32 Farben.
ich fang schon mal an mit einem 32x32pixel tileset
current tileset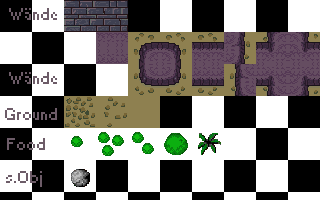 640x400 Ausschnitt aus der unteren map scaling *2: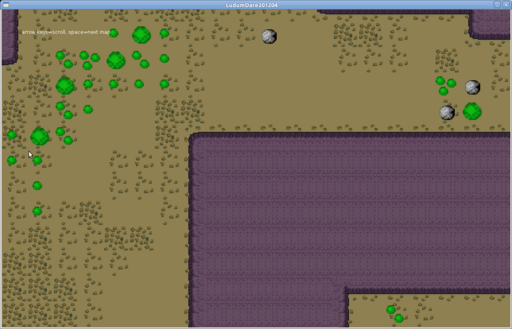 original map 1:1 in tiled: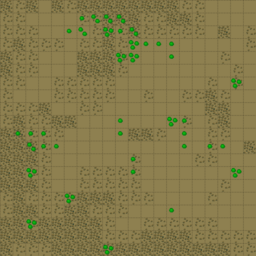 idee für riesen-grass :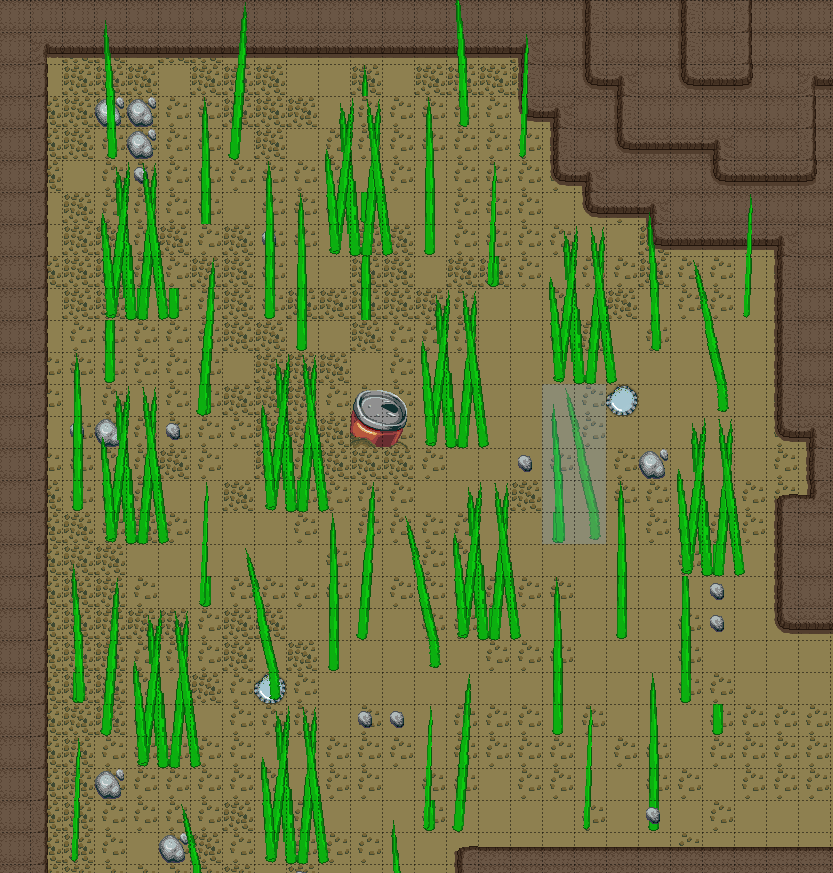 diese palette benutze ich: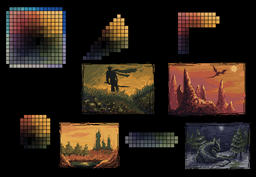 zum Beispiel so eine Palette

resolution
wir nehmen DOS VGA (320x200)
game modules/parts
overland map
human settlements
npc-system
item-system
character stats-system
combat-system
day/night-system!?
links